On-Site Restaurants
Terraza Irazú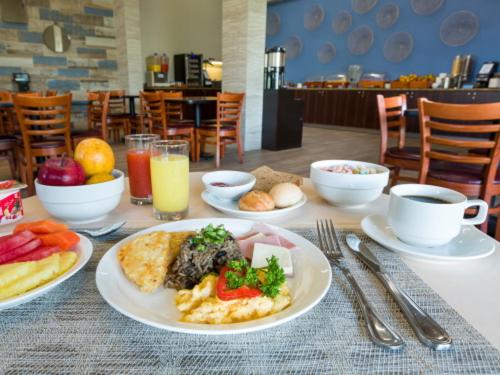 Terraza Irazú is open for breakfast, it serves a delicious buffet and it offers a nice view of the hotel's gardens and of the pool area.
Open for breakfast from
6:00 a.m. to 10:00 a.m.
Denny's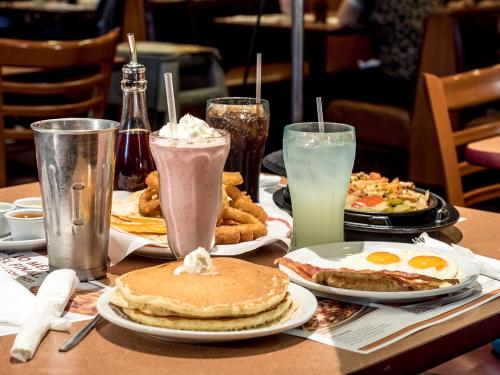 On premises, the Denny's offers a casual atmosphere and a varied menu served 24 hours a day. Denny's is known for its breakfasts served around the clock, including the popular Original Grand Slam Breakfast ®. Denny's menu also includes a variety of special dishes, options with chicken, meat, fish and seafood, burgers, salads and desserts. 24-hour room service is available.
Sangría Tapas Bar & Restaurants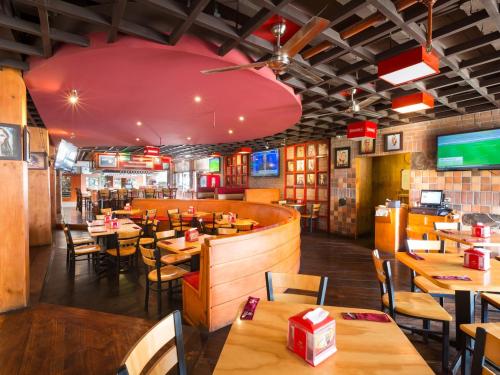 Unwind at the end of the day with a cool cocktail at Sangría Tapas bar and restaurant. This tapas bar specializes in fusion cuisine and serves lunch, dinner, and light fare.
OPENING HOURS:
Monday - Thursday from 11:30 a.m. to 12 midnight.
Fridays and Saturdays from 11:30 a.m. to 1:30 a.m.
Sundays from noon to 10:30 p.m.
In the next form, in the message box, please specify the restaurant that you want to go
Nearby Restaurants
La Fabbrica Pizzeria
OPENING HOURS:
Monday to Sunday 12:00pm – 10:30pm
FROM HERE:
1.4 KM DISTANCE, 5-7 MINUTES DRIVE
Furca
OPENING HOURS:
Monday to Saturday 12:00pm – 12:00 am
Sunday 12:00pm – 5:30 pm
FROM HERE:
0.9 KM DISTANCE, 4-6 MINUTES DRIVE
Tierra Sur Restó Argentino
OPENING HOURS:
Monday to Friday 11:30am – 3:30pm, 6:00 pm – 10:00pm
Sunday 12:00 pm – 5:00 pm
Saturday CLOSED
FROM HERE:
1.2 KM DISTANCE, 5-7 MINUTES DRIVE
La Princesa Marina
OPENING HOURS:
Monday to Saturday 11:00am – 10:25 pm
Sunday 11:00am – 9:00 pm
FROM HERE:
2 KM DISTANCE, 6-10 MINUTES DRIVE
Machu Picchu
OPENING HOURS:
Monday to Saturday 11:00am – 10:00pm
Sunday 11:00 am – 6:00 pm
FROM HERE:
1.4 KM DISTANCE, 5-7 MINUTES DRIVE
La Trufa
OPENING HOURS:
Monday to Friday 11:30am – 9:00pm
Saturday 9:00 am- 9:00 pm
FROM HERE:
0.8 KM DISTANCE, 4-6 MINUTES DRIVE
Hibachi
OPENING HOURS:
Monday to Saturday 11:45am – 2:30pm, 5:30 pm- 10:30 pm
Sunday 12:30 pm- 9:30 pm
FROM HERE:
1.2 KM DISTANCE, 4-6 MINUTES DRIVE
La Bodeguita del Medio
OPENING HOURS:
Monday to Thursday 12:00 pm – 12:00am
Friday and Saturday: 12:00 pm – 2:00 am
Sunday 12:00 pm- 12:00 am
FROM HERE:
1.9 KM DISTANCE, 4-6 MINUTES DRIVE
Fogo Brasil- Rodízio
OPENING HOURS:
Monday to Sunday 11:30am – 11:00 pm
FROM HERE:
1.6 KM DISTANCE, 4-6 MINUTES DRIVE
Central Pub
OPENING HOURS:
Wednesday to Saturday 12:00pm – 2:00 am
Monday & Tuesday 12:00pm -3:00 pm
Sunday CLOSED
FROM HERE:
1.9 KM DISTANCE, 4-6 MINUTES DRIVE